Mauro Negri Europart Quartet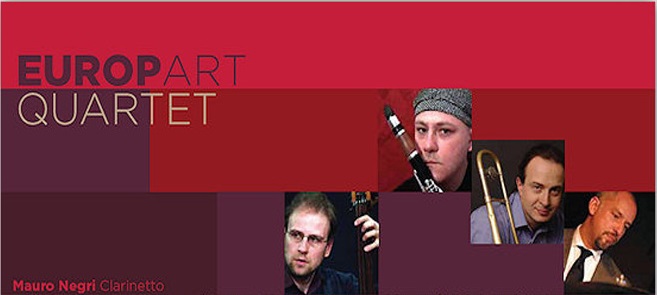 Mauro Negri (clarinet);
Georg Breinschmid (double-bass);
Georgi Korzanov (trombone);
Mario Gonzi (drums).
Mauro Negri is certainly one of the best clarinet player in Europe and one of the most prominent saxophone player in Italy.
His recent career is shared  as luxury side man in Richard Galliano's projects and as a leader in some of groups of the last Italian jazz wave, including collaborations with such Italian musicians as Flavio Boltro, Enrico Rava and Furio Di Castri.
The Europart Quartet is one of these proposals where Mauro Negri reveals his love for the history and the sound of his town – the ancient  Mantova  –  the birth place of great geniuses  like the poet Virgilio in the Roman Era, the painters Giulio Romano and Andrea Mantegna and the artist Leon Battista Alberti during the "Rinascimento Era" and the kingdom of some of legendaries  noble ladies in Middle Age as Matilde di Canossa and Isabella D'Este.
All tracks are inspired by these great persons and help the audience to connect the sound of the group to the memory of the historical past of  Mantova, a town so "special" not only for Mauro Negri but for the whole mankind.
Links:
myspace.com/mauro.negri
2014 Productions
________________________________________

Also Avaible

⇒ Macca