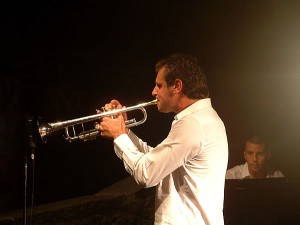 by Paolo Bignamini
featuring
Lucilla Giagnoni actress
& Fabrizio Bosso Quartet
Fabrizio Bosso – trumpet
Luca Mannutza – piano
Luca Bulgarelli – bass
Lorenzo Tucci – drums
Light designer Giamba Scarpellini
Organization  Carlo Grassi
Produced and directed  Emilio Sioli
A co production by
Associazione delle Arti e delle Corti / VERDEARANCIOMUSICA ScenAperta Polo Teatrale dell'Altomilanese
The true story of Chet Baker,  one of the more controversial jazz musician ever.
Lucilla Giagnoni with her amazing country presence plays his women recalling his life during more than 40 years of career.
Fabrizio Bosso and his smarting quartet plays some of his music, acting his figure as natural as we imagine he would be.
Repertory
IF YOU COULD SEE ME NOW  (Todd Dameron)
BORN TO BE BLUE  (R. Well – M. Tormè)
LADY BIRD (Todd Dameron)
SOLAR (Miles Davies)
LOVE FOR SALE (Cole Porter)
HOW DEEP IS THE OCEAN (Irvin Berlin)
TEMPUS FUGIT (Bud Powell)
BLACK EYES (Wayne Shorter)
BUT NOT FOR ME (George Gershwin)
MY FUNNY VALENTINE (Rodgers & Hart)